We (Still) Demand!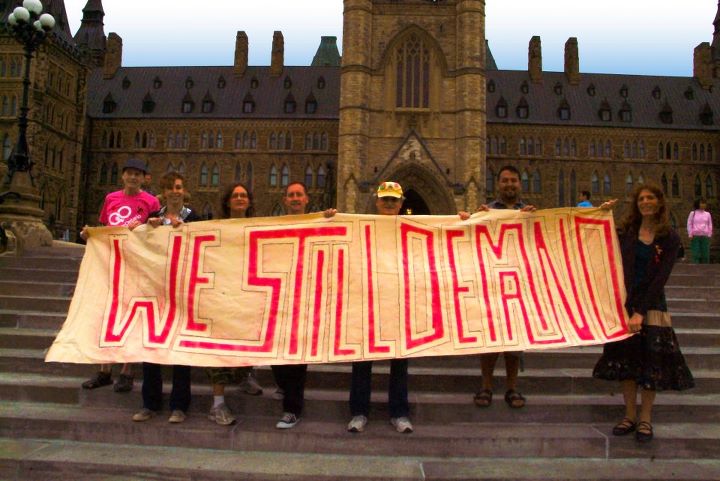 .
On August 28, 2011 Queer Ontario graced the steps of Parliament Hill in Ottawa to commemorate the 40th anniversary of We Demand, the first nation-wide rally in Canada where gay men and women got together to demand legal and social reforms from the federal government. As John Wilson, an original member of the rally, noted in his keynote speech on Sunday: while a number of reforms have been achieved in the 40 years since 1971, there is still a lot of prejudice that needs to be challenged and abolished, particularly on the part of government. This includes the government's refusal to extend human rights protections to transsexual, transgender, and intersex individuals, as well as its insistence on criminalizing HIV transmission.
Indeed, it is worth remembering that the extension of marriage rights to same-sex or same-gender couples did not finalize the struggle for queer and trans rights but, rather, re-invigorated it, as we now fight for the rights of those who are marginalized by the expectation to marry and privatize our sexualities; and those whose identities, relationships and livelihoods have yet to be recognized and accommodated by government.
Special thanks go out to Susan Gapka, Michael Burtch, Melanie Pasztor, and Brent Bauer for lending us their voices and their words of inspiration in highlighting all the work that needs to be done to create a trans-embracing, queer-loving, and sex-positive Canada. A very special thanks to A.J. Lowik for giving voice to our Demands list; as well as the over 100 people who attended the rally and shared their demands and their experiences of discrimination with us.
Categories:
Event
anniversary, Canada, crime, demand, history, HIV, human rights, law, liberation, marriage, Ottawa, rally, trans