We (Still) Demand — A Rally for Change on Parliament Hill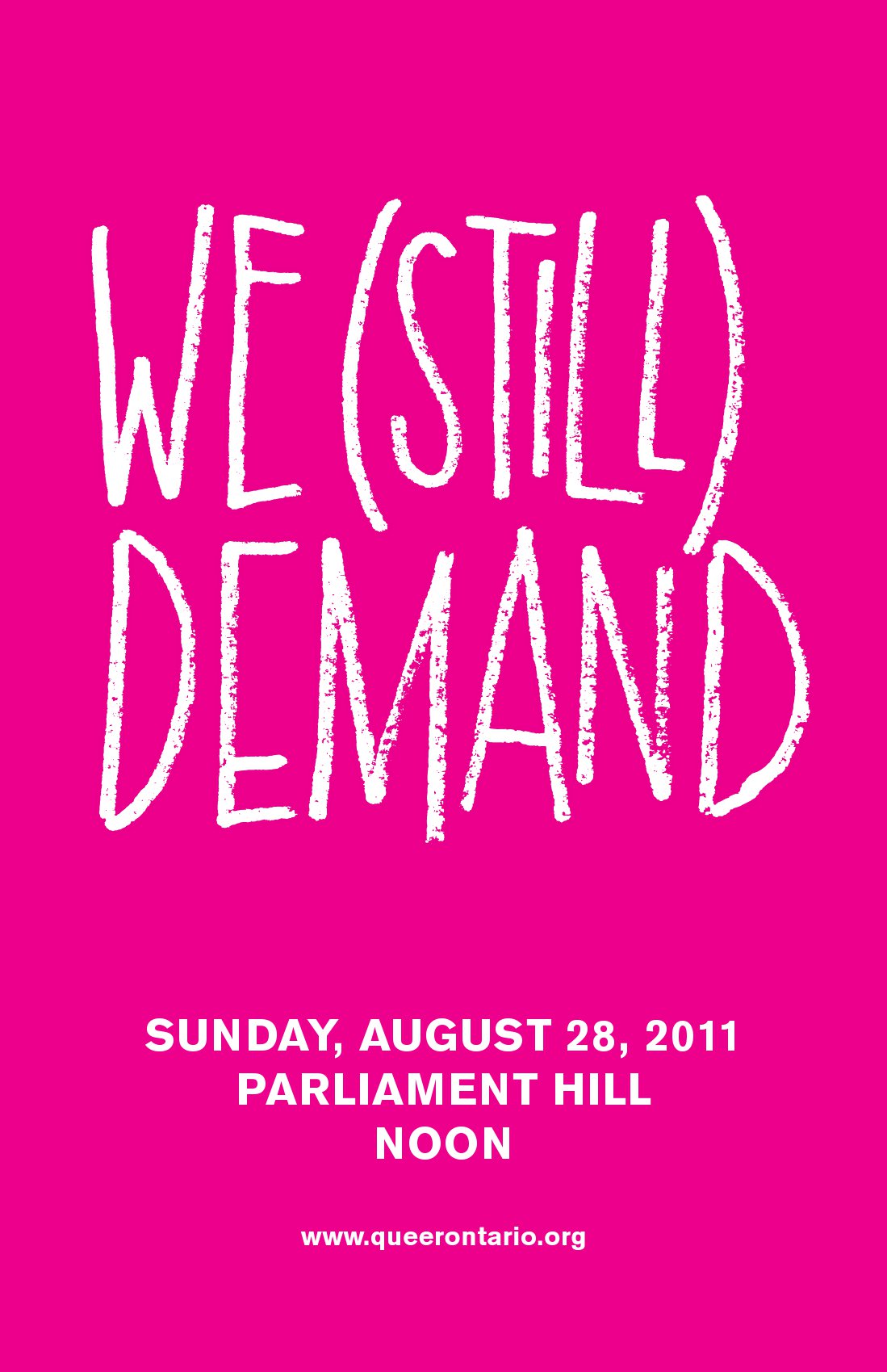 .
Queer Ontario is heading to OTTAWA!
On August 28, 1971, the first large scale 'gay rights' demonstration in the history of Canada was held on Parliament Hill in Ottawa and Robson Square in Vancouver. Demanding changes to the discriminatory laws that then restricted the lives of gay men and women, the protesters took to Parliament Hill and Robson Square with their list of demands. These included changes to the criminal code, such as:
1. The removal of the nebulous terms "gross indecency" and "indecent act" from the Criminal Code and their replacement by a specific listing of offences, and the equalization of penalties for all remaining homosexual and heterosexual acts; and defining "in private" in the Criminal Code to mean "a condition of privacy."
2. Removal of "gross indecency" and "buggery" as grounds for indictment as a "dangerous sexual offender" and for vagrancy.
3. A uniform age of consent for all female and male homosexual and heterosexual acts.
While we have made many great strides in the LGBTQ rights movement in the 40 years since, we are still victims of oppression, degradation, and erasure in all aspects of social life. We are deliberately written out of citizenship guides, we are discouraged from sharing our life experiences in our classrooms or workplaces, we are denied the ability to donate blood, and we are continually given misdiagnoses by medical professionals who make misinformed assumptions about who we are and what we do. Not to mention, of course, a protection of our gender identities and gender expressions under the Canadian Charter of Rights. All of these issues persist because of a pervasive public ignorance around LGBTQ issues created in no small part because of an inability for our elected officials to recognize these injustices and to stand up for our rights.
As a result, we still have demands.
To commemorate the original rally, as well as make a loud and proud statement to many of the issues we still face today, Queer Ontario is holding a rally on Parliament Hill in Ottawa on Sunday, August 28th, 2011 and we want you to be involved! Here are two ways:
1. Add your demands to our list
Let us know your demands! Drop us a line at info@queerontario.org or post a comment on this post and let us know what demands you have for the Federal government for the betterment of the lives of LGBTQ persons and communities!
2. Attend the rally!
Show up to Parliament Hill on Sunday, August 28 @ Noon as we commemorate the original rally and set forth our new list of demands. Then, come march with us as we merge into the Capital Pride Parade.
So get to it! Send us your recommendations and/or join us for the rally. Collectively, we are still here and we still demand!
Facebook Event Page: http://www.facebook.com/event.php?eid=261819500498372
Categories:
Event
anniversary, Canada, crime, demand, history, HIV, human rights, law, liberation, marriage, Ottawa, rally, trans